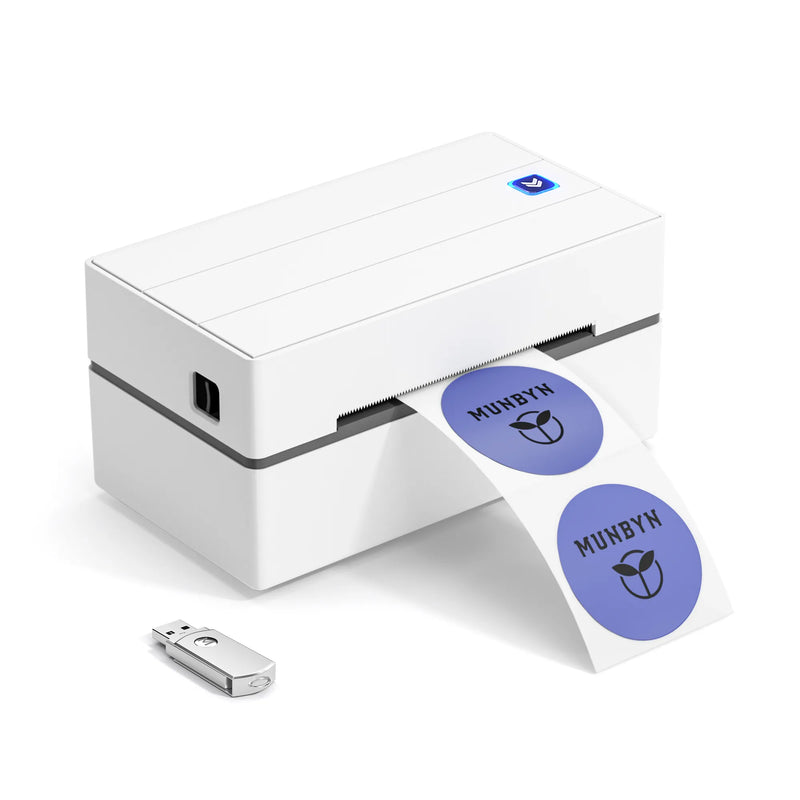 >
MUNBYN Thermal Label Printer P130
USB
· 203DPI meets your daily printing needs.
· Connectivity Technology: USB Only.
· Eco-friendly Printer. Label Printer P130 uses direct thermal technology, which prints 300,000 standard labels without ink or toner.
· Time & Money Saver. MUNBYN Thermal Label Printer produces high-quality, easy-to-scan barcode labels at a high speed. You can print 150 sheets of labels per minute while making no noise and helping you save time.
· Best for Small Businesses. P130 Label Printer is compatible with all thermal shipping labels, popular e-commerce sites, and any courier such as UPS, USPS, FedEx, DHL, and many more. It is compatible with all versions of Windows, Mac, and Linux systems via USB cable(❗No Bluetooth & Wi-Fi, NOT for iPhone/iPad).
· Easy to Set Up. MUNBYN thermal printer P130 comes with a USB Flash Drive for easy driver setup in One-minute.
· Automatic label identification. MUNBYN UPS shipping label printer has automatic size detection and label adjustment functions. It is compatible with labels in 1.57" to 4.3" width sizes, ensuring enough diversity to cover your needs for multiple E-commerce businesses.
Free Shipping on Orders $99+
14-Day Return Policy
2-Year Warranty

Resolution: 203DPI, 8 dots/mm
Meets your daily printing needs.

One-click setup on Chrome Browse
One-click installation to print eliminates complex installation issues.
Instant Conversion from 8x11 to 4x6 Labels
Free Label Converter Software to print 8*11 label files in batches with 4*6 label paper.
Suitable for small business
Compatible with all major shipping and sales platforms labeling like Etsy, eBay, Poshmark, etc.
Support prints labels from 1.57" to 4.3" wide
· Intelligent detection of paper size to ensure correct printing· Auto-rewind to avoid paper waste
Warranty
We support 24-month warranty.
FSC® Certified
Munbyn 4"x6" shipping labels obtain FSC environmental protection certification.
Appearance Patent
Unique product appearance design to show your personality.