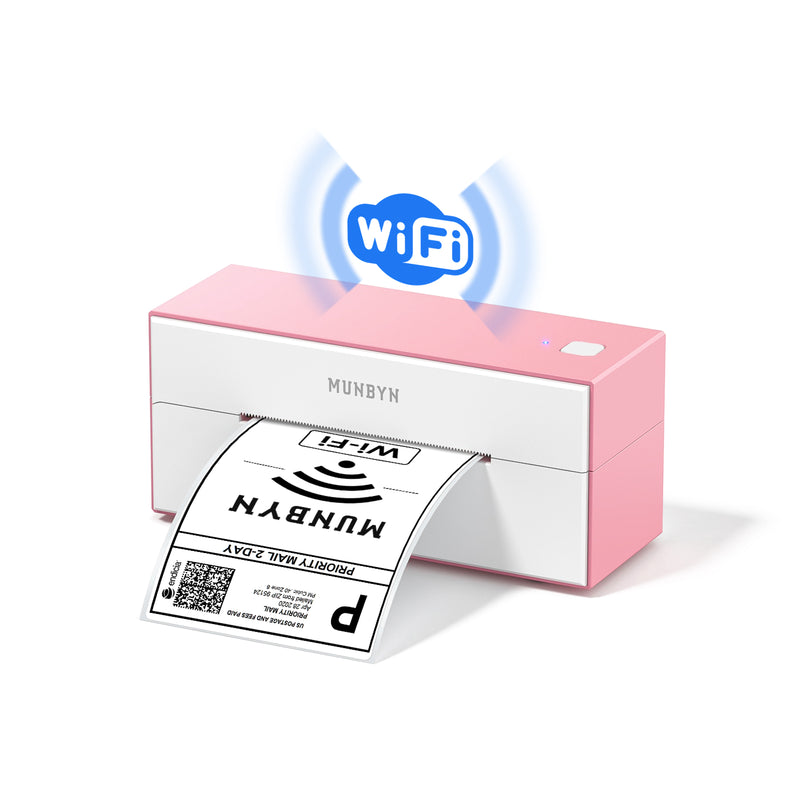 >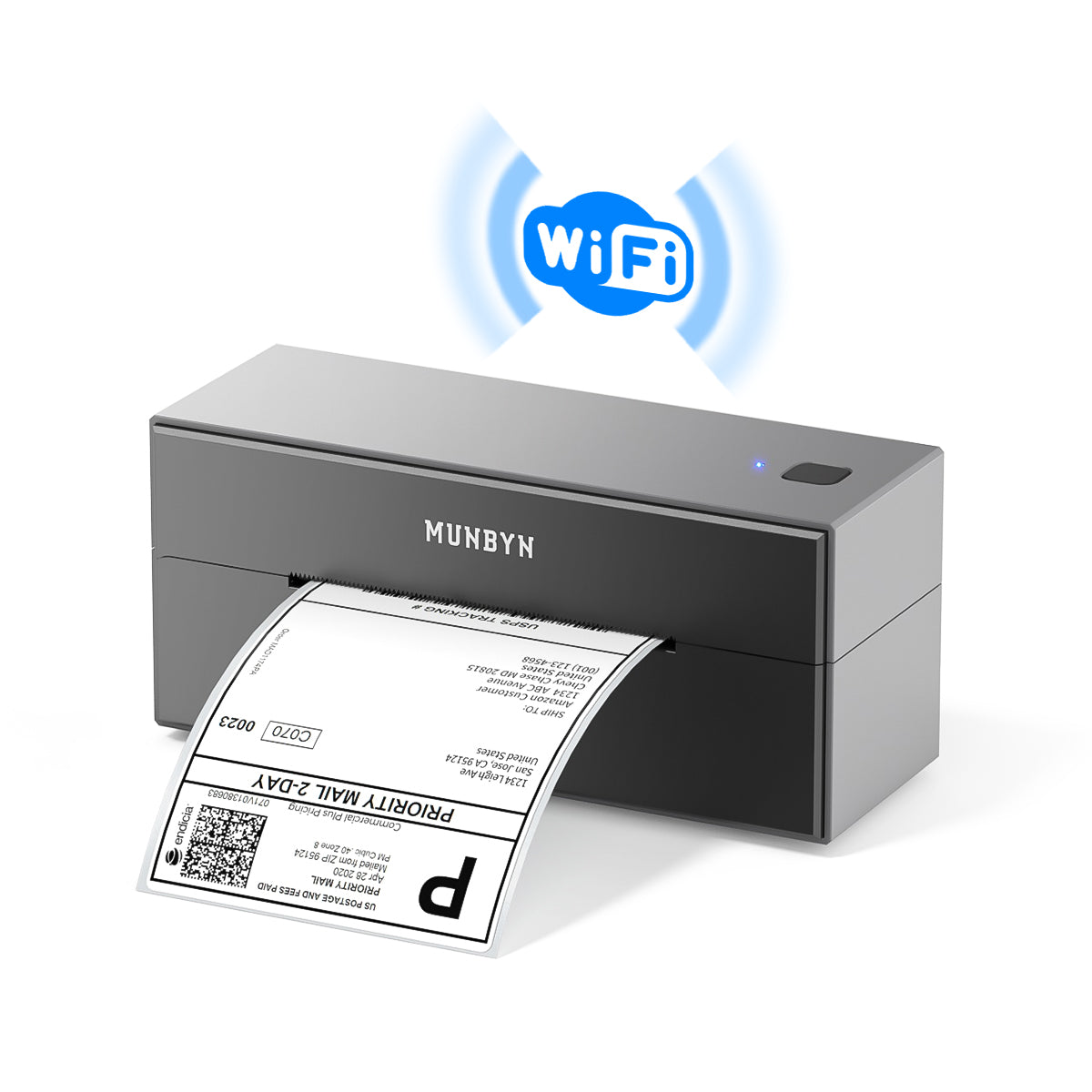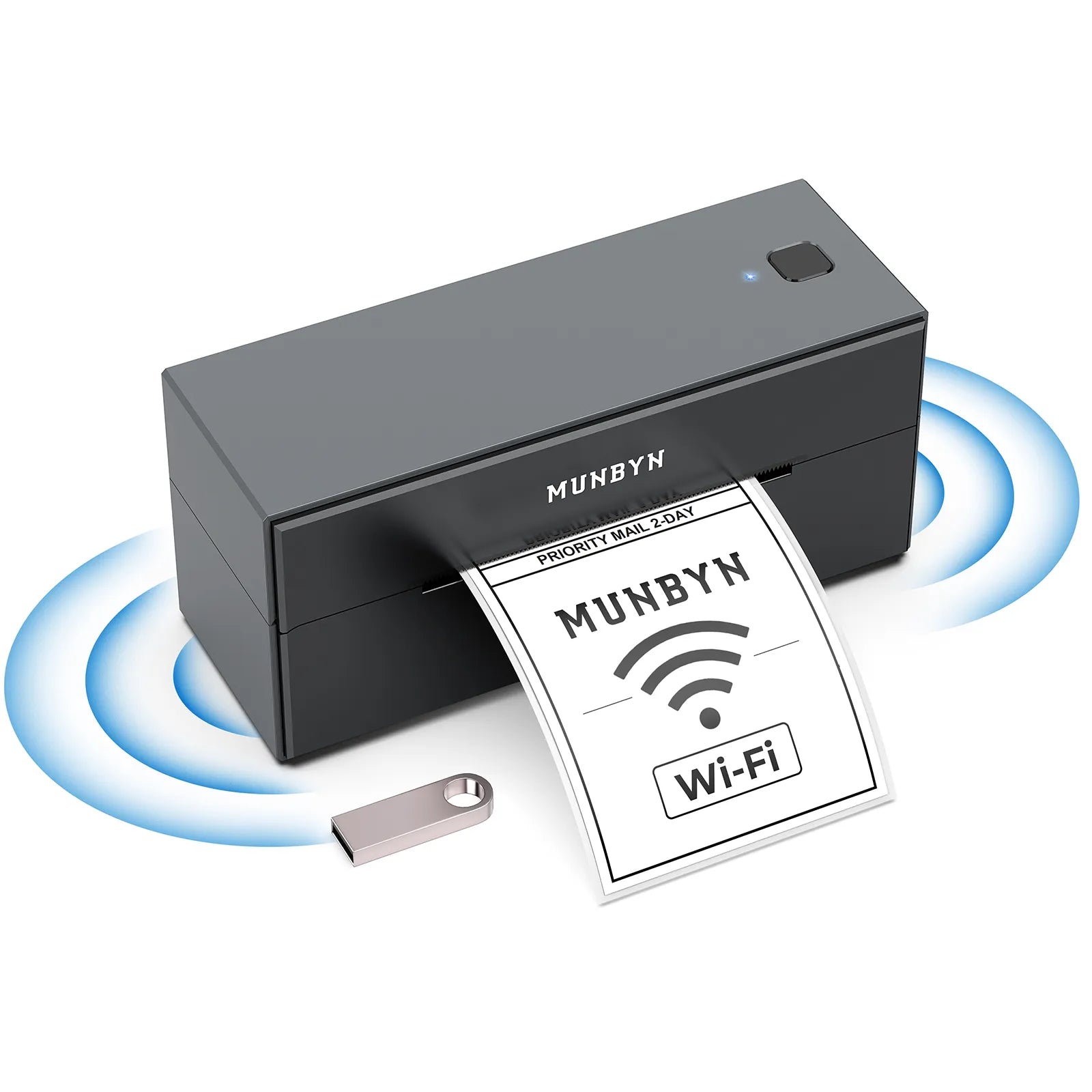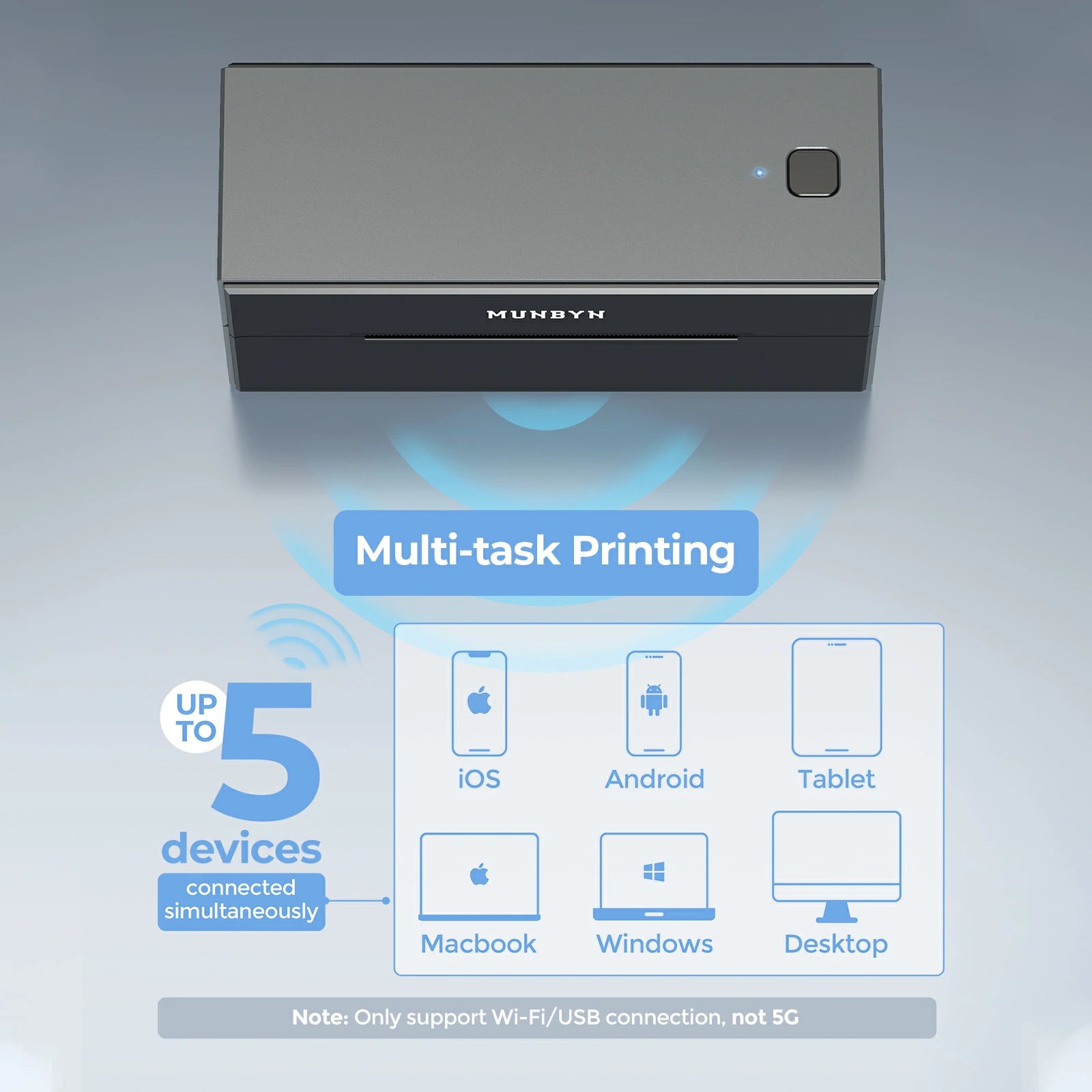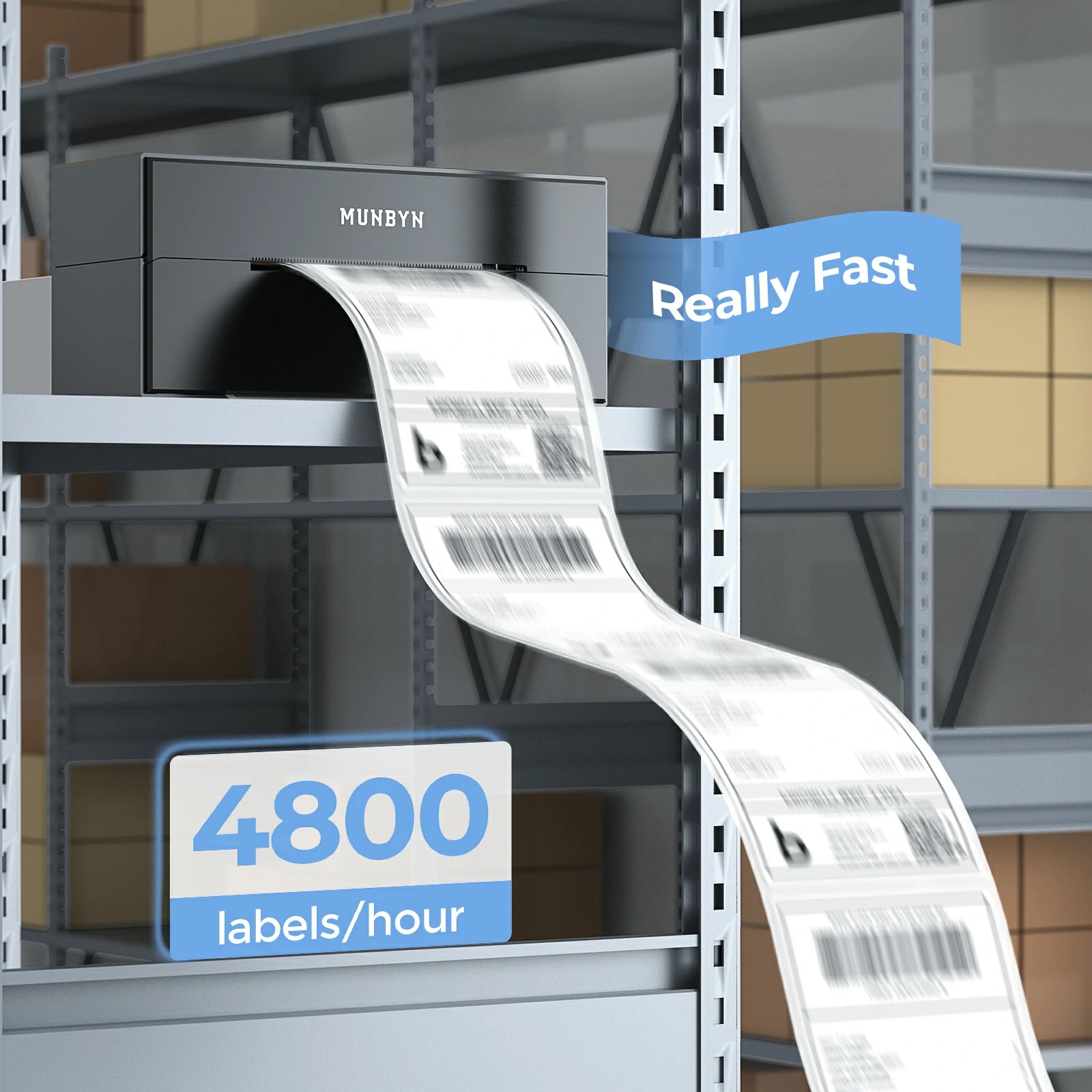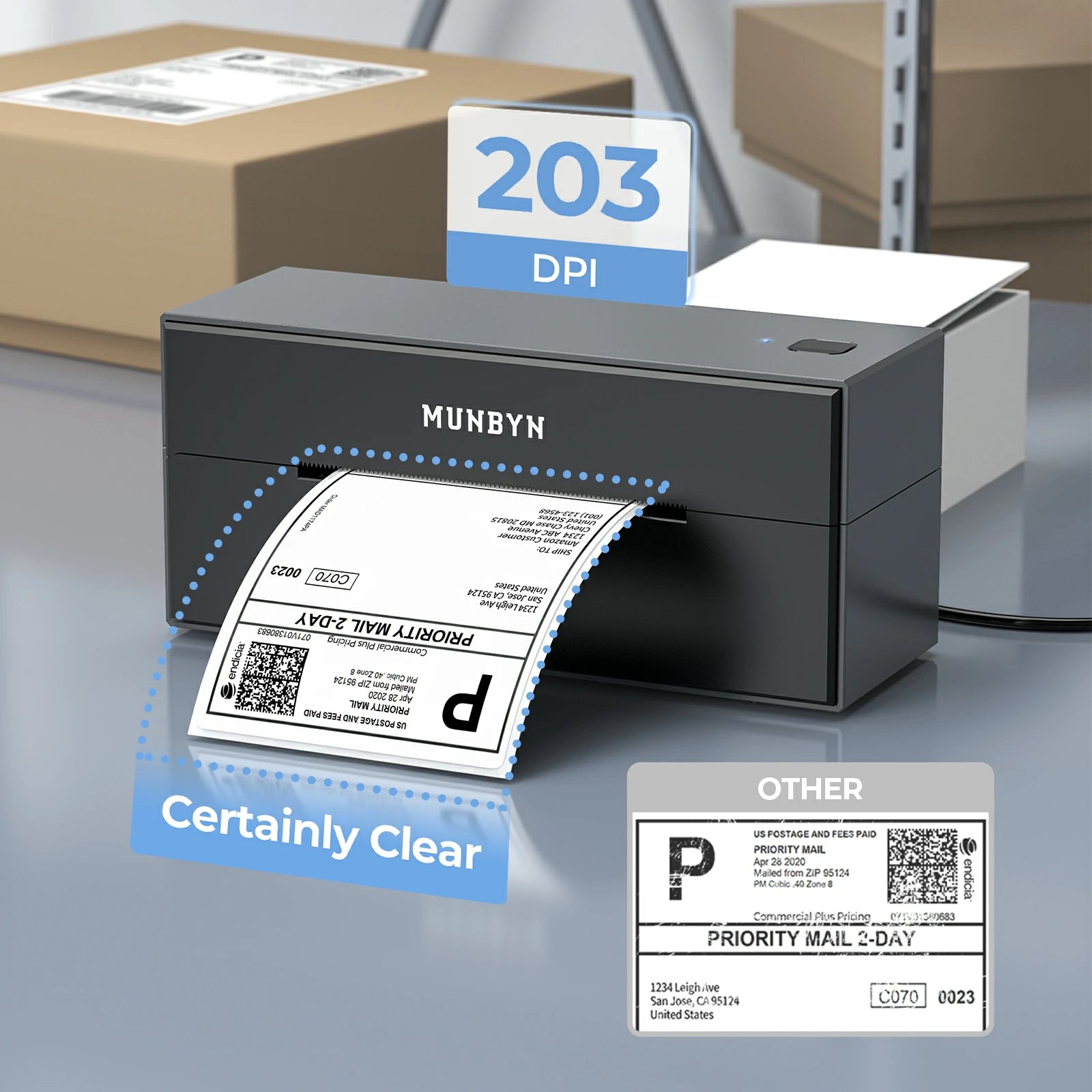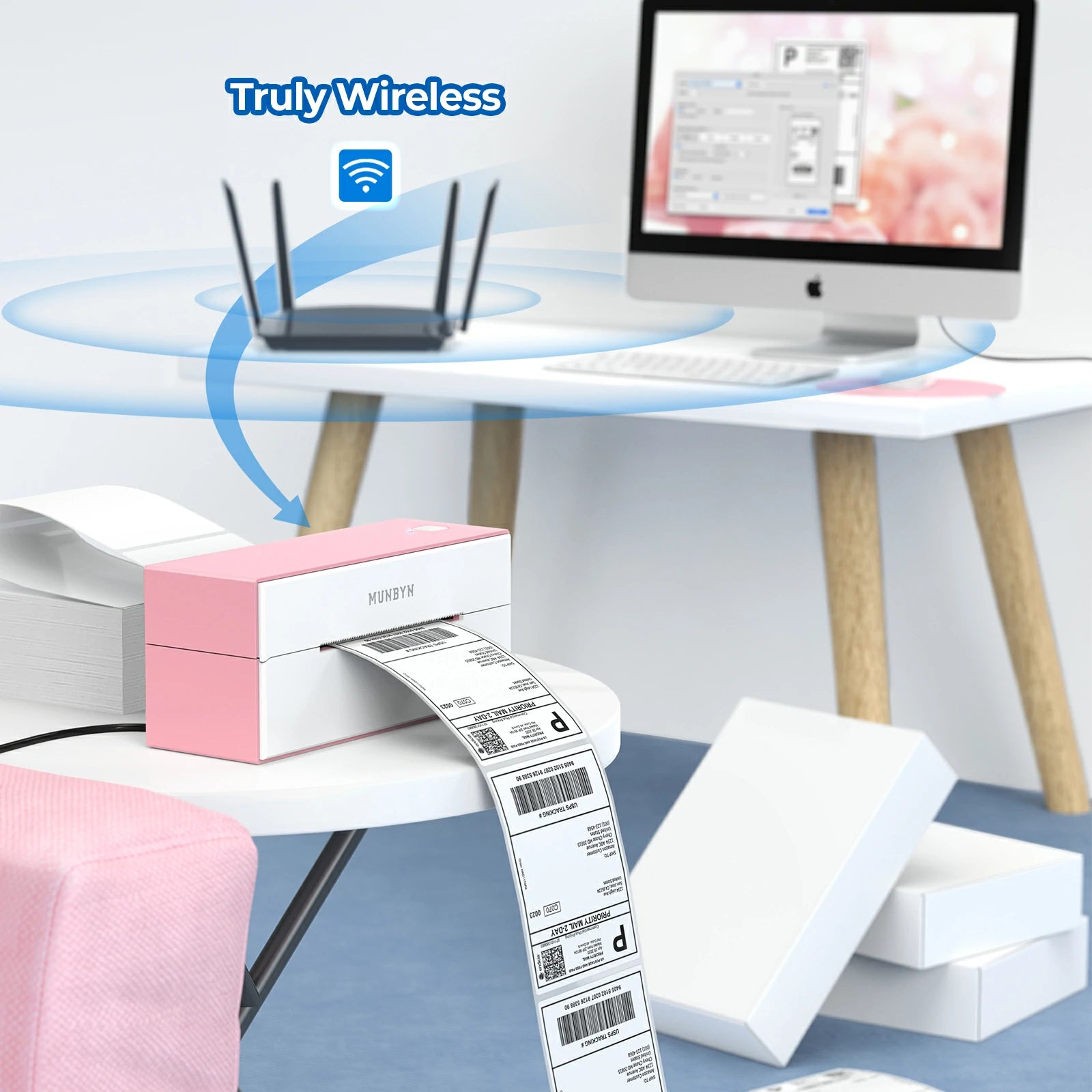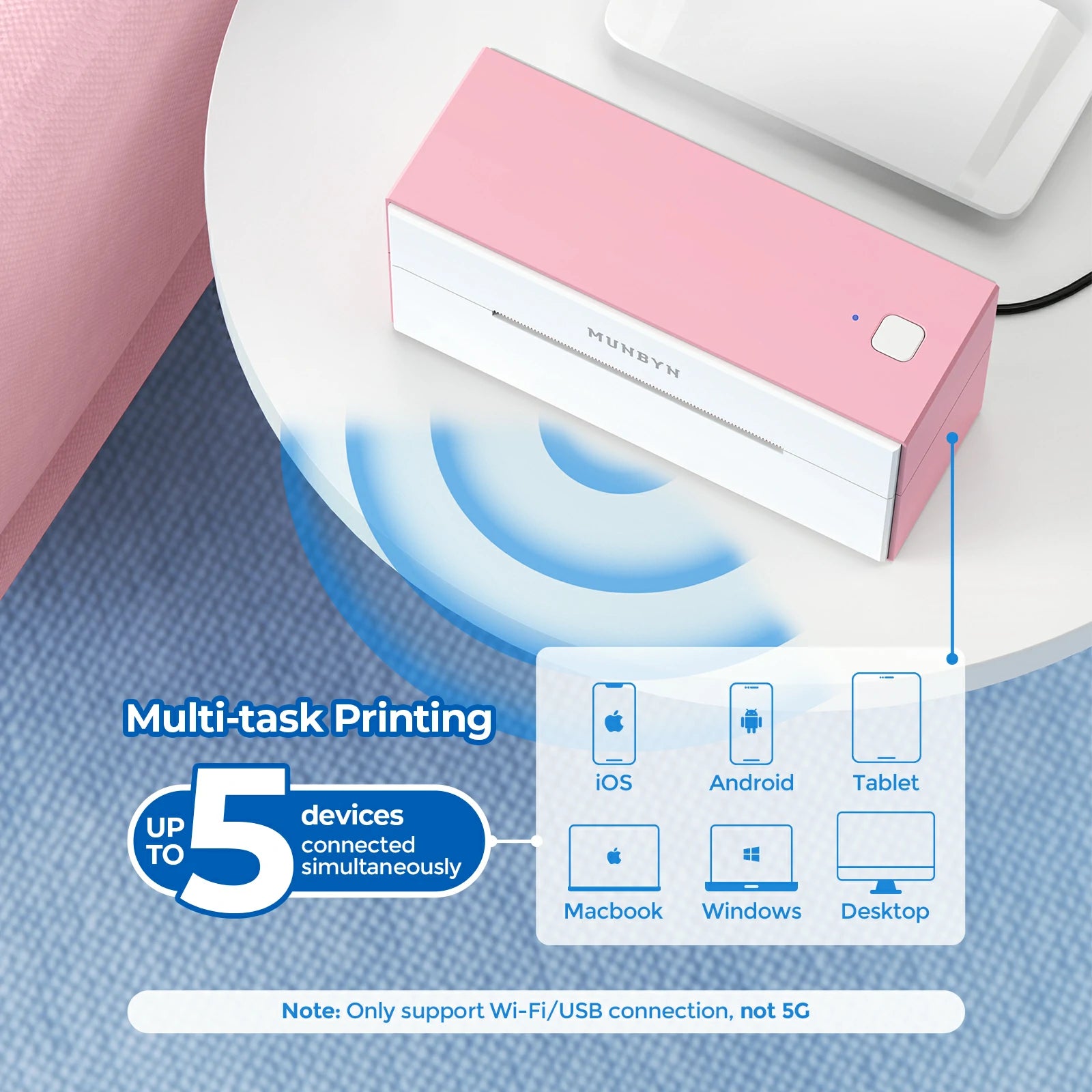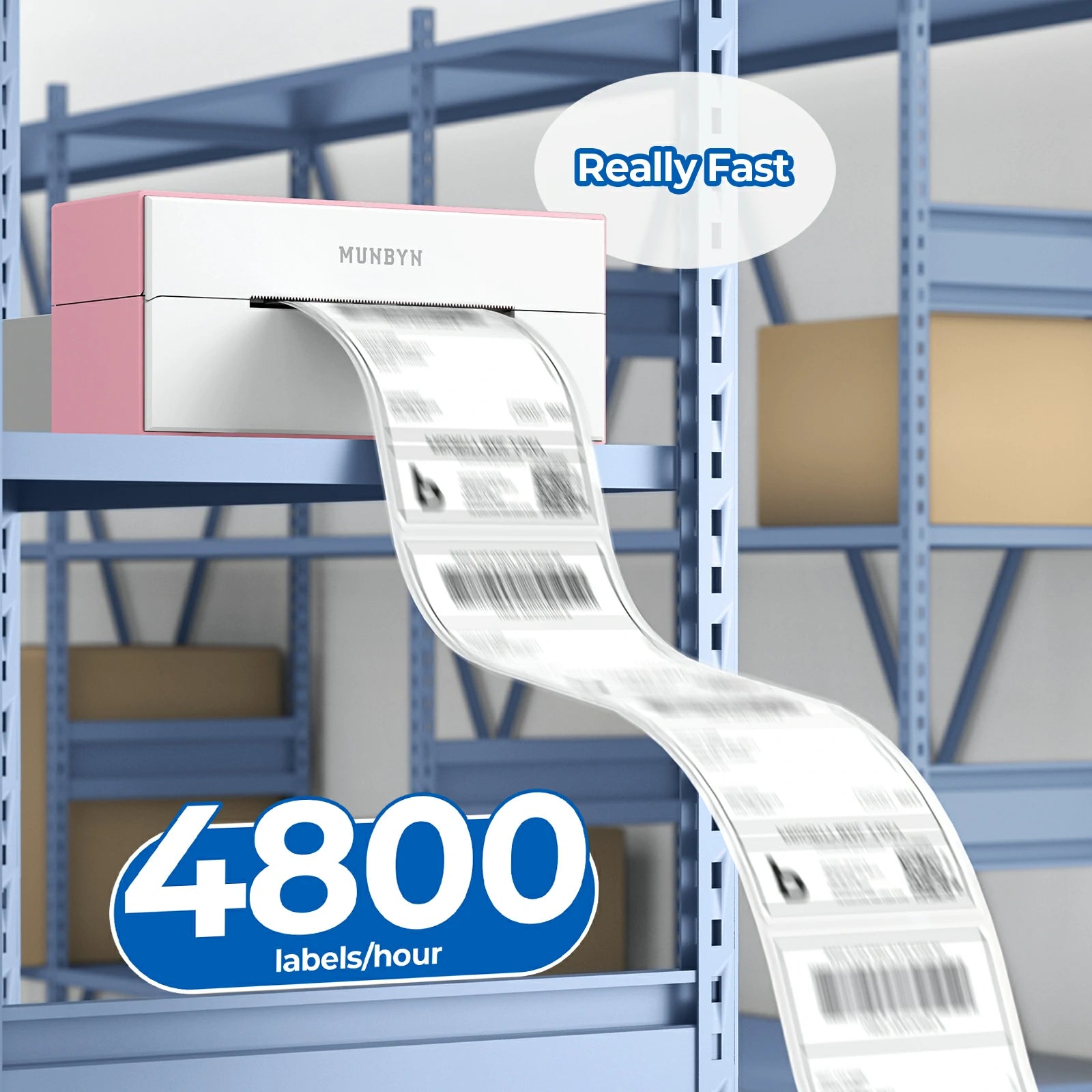 MUNBYN Wireless Shipping Label Printer P129S
Wi-Fi
· 203DPI meets your daily printing needs.
· WiFi Conaction-Truly Wireless. The wifi connection of the P129S Wireless Thermal Label Printer makes for a huge increase in convenience. There is no need for a data cable to connect phones, tablets, laptops, and computers, sharing the entire network for truly wireless printing. (💡Note: Only support Wi-Fi/USB connection, not 5G)
· Up to 5 Devices-Multitasking Printing. P129S Wi-Fi Label Printer can receive print tasks from up to five devices simultaneously, making it suitable for multiple users in the office without waiting in line.
· 4800labels/hour-Really Fast. P129S Thermal shipping label printer uses an External paper bin with an unlimited number of labels, printing up to 4800 labels per hour. Advanced thermal technology eliminates the need for ongoing ink or cartridge purchases, helping you save $1000+ per year.
· ROHM Printhead -Certainly Clear. The Rohm printhead selected for MUNBYN wireless thermal label printer has a unique new structure that increases the durability by 3 times and the printing efficiency by 15%, ensuring stable print quality even at high speed and continuous printing.
Free Shipping on Orders $99+
14-Day Return Policy
2-Year Warranty

Wireless Printing
It supports two types of connection: USB and WiFi. With Wi-Fi connection, you may easily connect your devices and print wirelessly from iPhone, Android, Mac, Windows, and iPad. And if you're in a situation without network, you can use USB to connect to your computer for printing.
Save Time and Money
Thermal technology eliminates the need for ink or toner. Without worrying about running out of ink, easily print labels at a speed of 150mm/s with high-resolution 203 DPI print head. Print out clear labels that are easy to scan and read. Our MUNBYN wireless shipping label printer comes with a free USB flash drive containing video and written instructions that cover WiFi label printer setup.
Customize Labels Easily
Make any label you need with MUNBYN Print app. From product and barcode labels, to thank you and business stickers, design custom labels ranging from 1" to 4.3" in width. Our app offers versatile label-making options suited for your needs.
Versatile Compatibility
MUNBYN P129S wireless shipping label printer is compatible with major shipping platforms such as Amazon, UPS, eBay, and FedEx. Also, it works with ShipStation, ShippingEasy, Shippo, Shopify, and more marketplaces.
Smart Label Compatibility
Our thermal printer identifies, feeds, and adjusts to various label types ranging from 1.57 to 4.3 inches (40 to 110 mm) in width. Ideal for printing labels used for inventory management, receipts, event transportation tickets, and documents for business or personal purposes.
Make Text Clarity
The advanced print head makes printing without white spots, resulting in clearer print quality.
Ultra-high Efficiency
Up to 72 labels per minute
No burden of business growth

Custom Labels Available
1''-4.3'' print width
Print out any type of labels that small business owners need

We Made It!
And you can print directly

As for connectivity, MUNBYN P129 thermal printer makes it easier for users to print their stickers because you can connect to it via Bluetooth. This also means that you can connect different kinds of devices to it. Whether you prefer to plug into a USB port or connect wirelessly, this printer will suit your preferences.

You will also get a free label editor app called MUNBYN Print when you purchase the Bluetooth printer. This helps you create labels and stickers easily with hundreds of elements, frames, fonts, art, and background. They can all deliver high-quality prints when it comes to thermal stickers. Its app offers over 15 label themes and 600 symbols to choose from, all of which can help you personalize your labels.
Download Munbyn Print APP
Warranty
We support 24-month warranty.
FSC® Certified
Munbyn 4"x6" shipping labels obtain FSC environmental protection certification.
Appearance Patent
Unique product appearance design to show your personality.