Mother's Day is just around the corner, and if you're like most of us, you're probably scrambling to find the perfect gift for your mom. But even if you've found the perfect present, you still need to wrap it in a way that shows your mom just how much you care. That's where these expert tips come in. As someone who's spent more time than I'd like to admit wrestling with wrapping paper and ribbon, I've learned a few tricks that can help you take your Mother's Day gift to the next level. So whether you're a seasoned pro or a wrapping novice, here are five tips that will help you wrap the perfect Mother's Day gift.
Choose the right gift
While there are plenty of mother's day gift ideas out there, it's important to pick something that your mom will love and appreciate.
When choosing a gift for your mom, think about what she enjoys doing in her free time. Does she love to cook? Is she an avid gardener? Does she enjoy reading or listening to music? By considering her interests and hobbies, you can find a gift that shows her you really know and appreciate her.
Make sure the gift will be something she'll like using every day--and not just once in a while when it suits her schedule. You want this day to be special for both parties involved--so don't pick out anything generic or boring! If your mom enjoys spending time in the kitchen and has a passion for cooking, you might want to consider giving her a gift that can help her decorate or organize her kitchen.
Sometimes, the most meaningful gifts are the ones that come straight from the heart. If you have a talent for baking, consider making your mom a batch of her favorite cookies. Alternatively, you could create a custom scent using essential oils, or make her a piece of jewelry that she can wear and cherish. The possibilities are endless, and the effort you put in DIY mother's day gifts will show your mom just how much you care.
SEE ALSO: Creative Packaging Ideas for Homemade Candles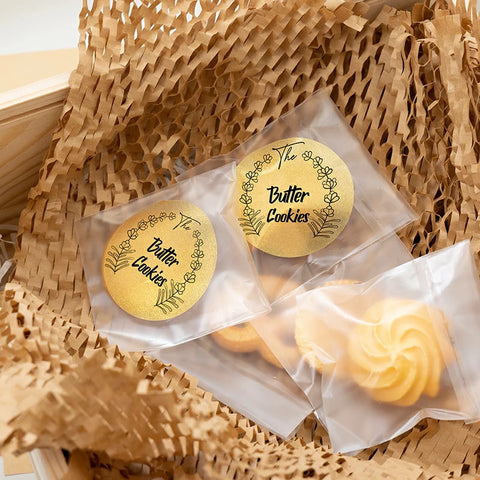 Image source: Munbyn
Choose wrapping materials
Once you've chosen the perfect gift, the next step is to select the right wrapping materials.
First and foremost, consider your mom's preferences.Before you select your wrapping materials, think about what types of colors and patterns your mom likes. If she's a fan of bright, bold colors, consider using wrapping paper with vibrant prints or patterns. If she prefers more muted tones, opt for solid-colored paper or simple patterns.
Keep it simple: While it can be tempting to go all-out with fancy wrapping techniques, sometimes simple is best. Stick to basic wrapping paper, and add a ribbon or bow in a coordinating color. This will help your gift stand out without being too flashy.
Consider using unique materials: If you want to really impress your mom, consider using unconventional wrapping materials. For example, you could wrap your gift in a beautiful piece of fabric, or use honeycomb paper for a unique texture. Old maps or newspaper can also make for interesting wrapping paper choices.
Don't forget the finishing touches: To really make your gift shine, don't forget to add some finishing touches. A spring of fresh herbs or flowers can add a beautiful touch.
Add Personal touch
Wrapping the perfect Mother's Day gift is all about adding a personal touch that shows your mom how much you care. One way to achieve this is by writing a handwritten note. Your mom will love it, and it's easy to do! Take the time to write a heartfelt message expressing your love and appreciation. This will show your mom that you've put a lot of thought and effort into her gift.
If you are not so comfortable with your handwriting, another way is by utilizing personalized sticker labels. You can use sticker label printers to create personalized labels with your mom's name and a special message, or a quote she loves. These sticker labels can also be used to seal the wrapping paper or to decorate the gift box, adding a unique and personal touch to your gift.
Incorporating personalized photo tags is another option to make your gift special. You could print out a favorite family photo or a picture of you and your mom, and attach it to your gift with a ribbon or string. This will add a sentimental touch that your mom is sure to appreciate.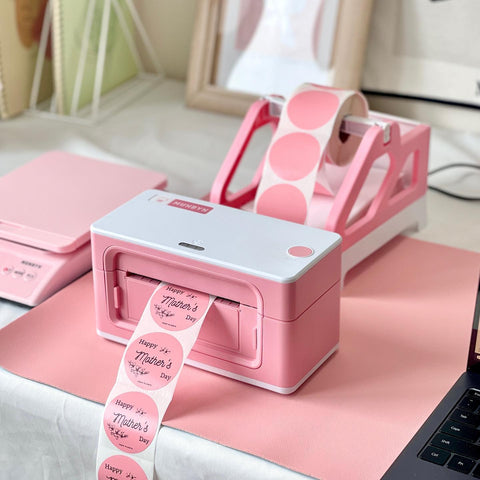 Image source: Munbyn
Creative wrapping ideas
As you wrap gifts this Mother's Day, don't forget to treat your mom with love and respect.
Honeycomb paper is a unique and eye-catching wrapping material that will make your gift look extra special. You could use it as a decorative touch on the gift box, or even use it as the wrapping paper itself. oneycomb paper also works well as padding inside boxes when shipping fragile items overseas because it allows air circulation through its porous surface which helps prevent breakage during transit.
If your mom loves to travel, consider using old maps as the wrapping paper. This will give your gift a vintage and adventurous feel that your mom will love.
Adding flowers to your gift wrapping is a beautiful and elegant touch. You could tie a bouquet of flowers to the gift box or even use petals as the wrapping paper itself. You could also use a colorful or patterned ribbon to tie around the gift box, or even weave ribbon to create a unique and intricate design.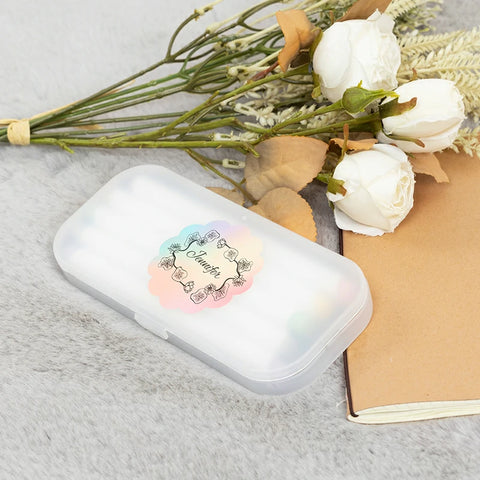 Image source: Munbyn
Deliver the gift
Once you've picked out the perfect gift and wrapped it, deliver it in person. It's not only fun for your mom (and you) but also makes her feel special.
If you can't make it to see her in person, print out shipping labels and send the package at home via USPS, UPS or FedEx so she doesn't have to wait at home all day for a delivery that might never come!
Last but not least, make sure to plan ahead and deliver the gift in a timely manner. You don't want to be rushing at the last minute or risk the gift arriving late.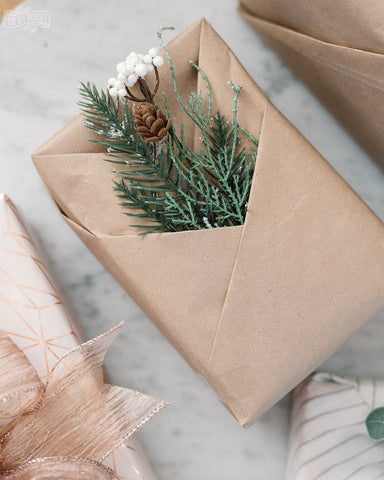 Image source: The DIY Mommy 
Wrap up
Wrapping the perfect Mother's Day gift doesn't have to be stressful or complicated. By following these expert tips, you can create a thoughtful and beautiful gift that your mom will love. At the end of the day, what matters most is the love and appreciation you show your mom on Mother's Day. So, take the time to create a meaningful and heartfelt gift that will show her just how much you care. Happy Mother's Day!